St. George Gazette Newsletter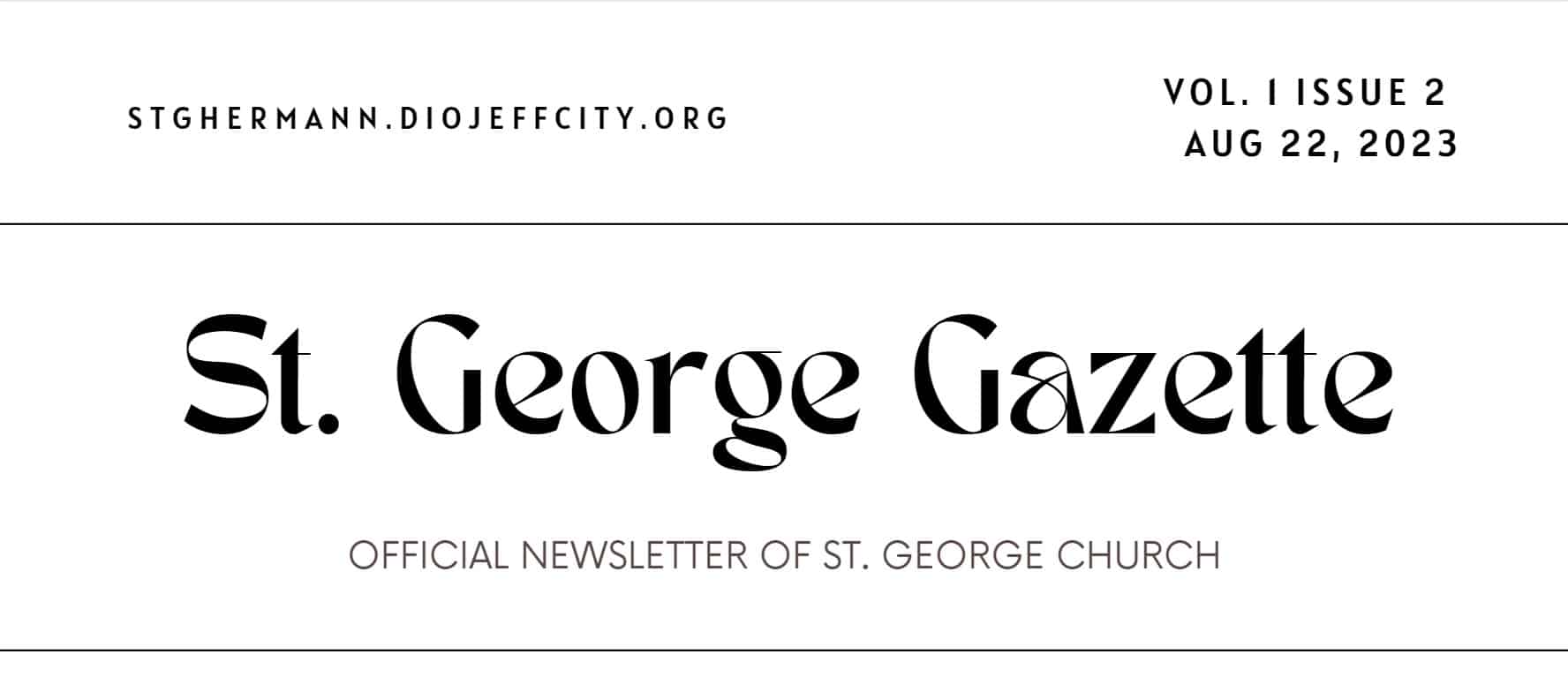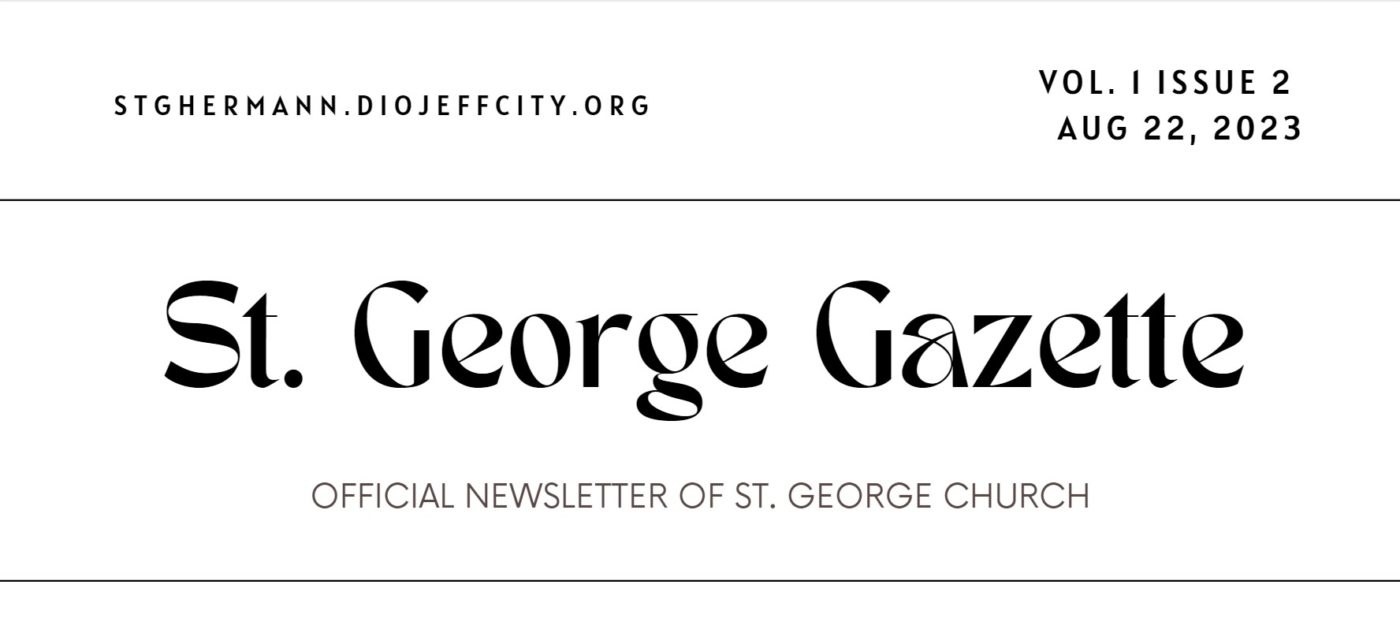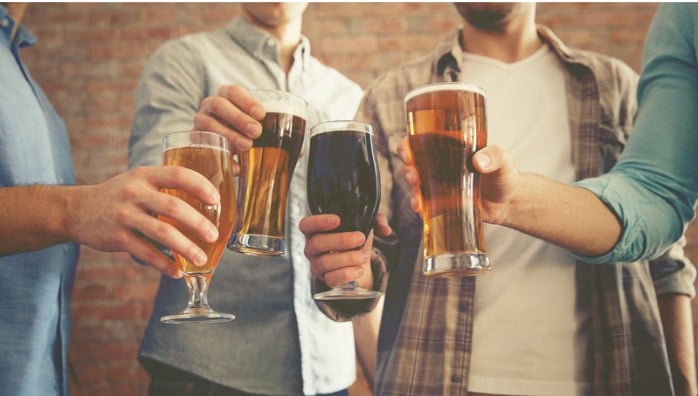 Bibles and Brews
Men's fellowship group Meeting on Thurs. Sep. 22
Our first B&B was a success! Join us again for Catholic conversation over a cold one @7pm in the church basement on Sept 22nd. BYOB 🙂
---
Commute with Formed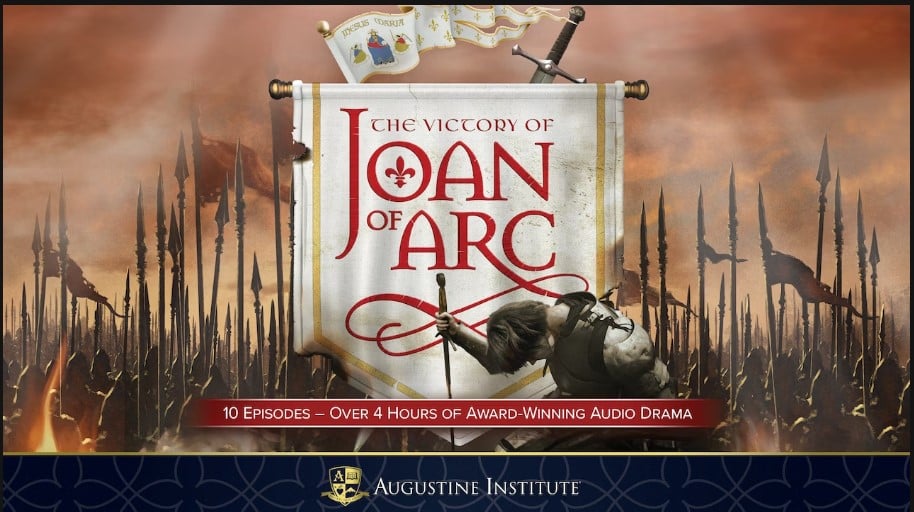 This week's Formed feature: A Radio Theatre Series
The Victory of Joan of Arc
Declared a witch, she became a saint.
Imagine it's 15th-century France. A 17-year-old peasant girl enters the royal courts during one of the longest and bloodiest wars in history. She claims she's been sent by God to fulfill a mission: drive out the English enemy and place the true king of France on the throne.
Meet Joan of Arc. In this powerful movie-of-the-mind audio drama, you'll hear the true story of how she rose from an obscure peasant village to serve God and her country in the most surprising and miraculous ways.
The most experienced politicians could not thwart her. The most seasoned soldiers could not outmaneuver her. She was relentless in bravery, determination, boldness, passion, and holiness—finally yielding to offer the ultimate sacrifice.
The Church calls her a saint. History calls her a hero.
Haven't signed up for your Free formed subscription? You can do that here and start streaming thousands of Catholic content for adults and children alike! Nothing is needed except your email and Hermann's zip code.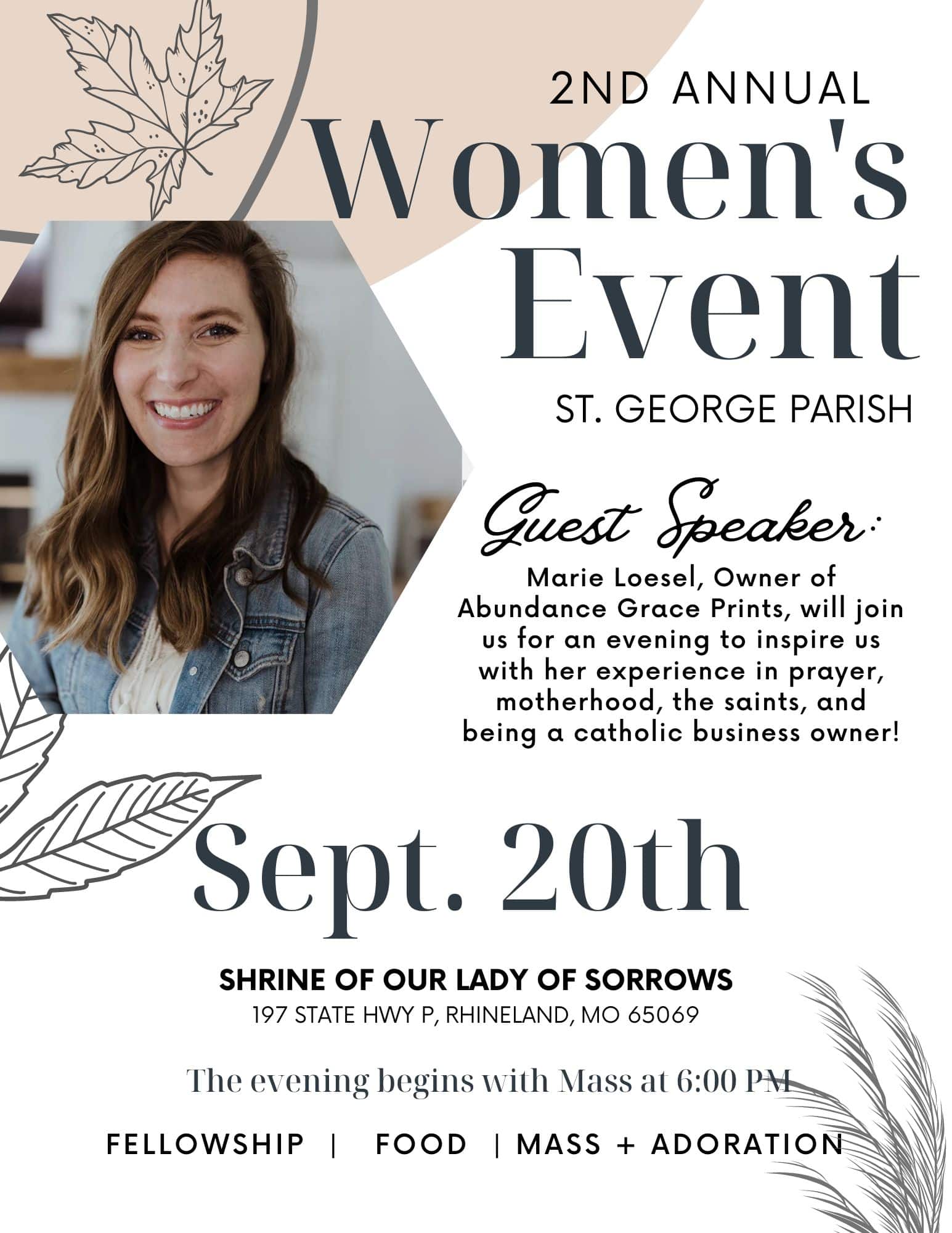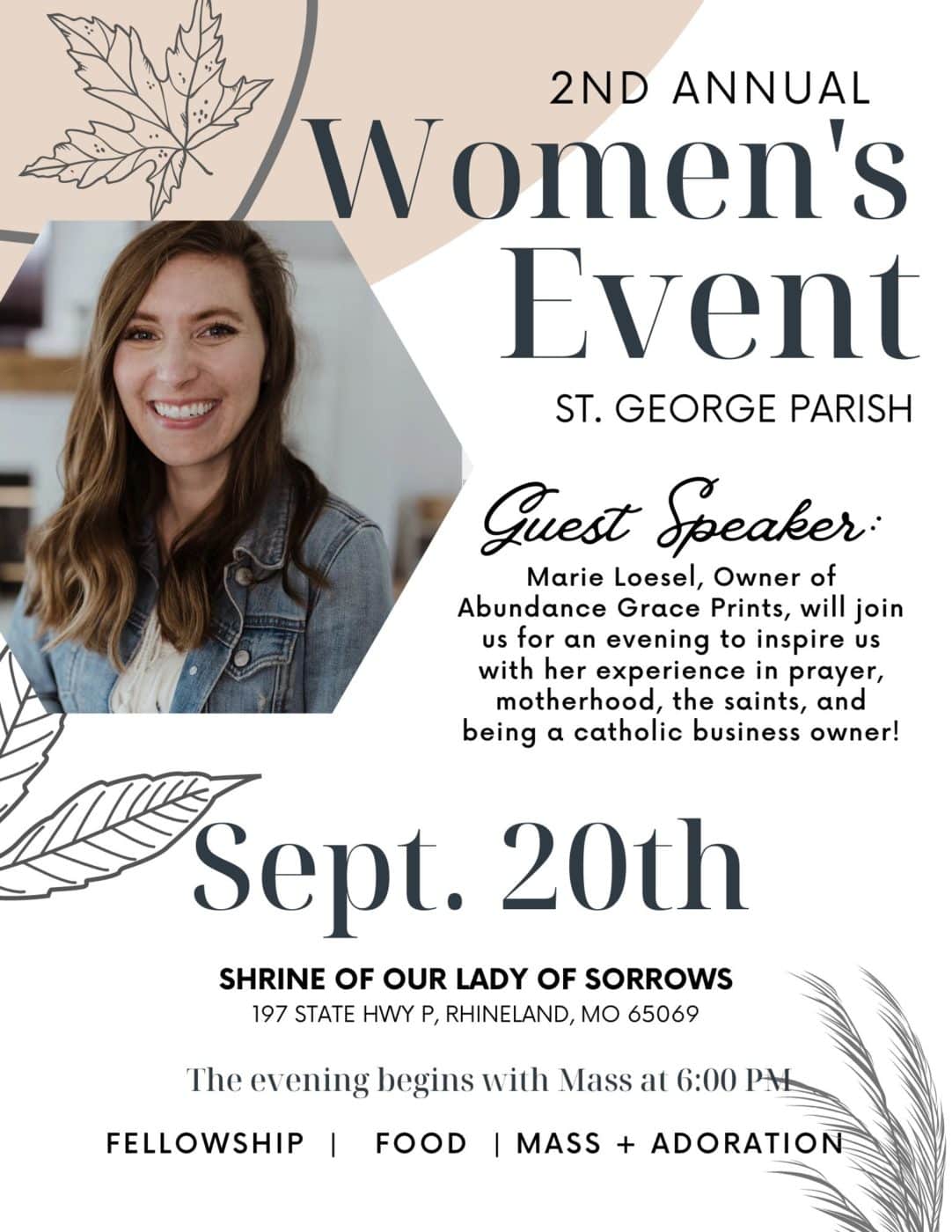 2023 Women's Event
Last year we hosted a Women's Event that included food, drinks, fellowship, and guest speaker Shalini Blubaugh – writer for Blessed is She. There was such great feedback that we are doing it again!
This year, we are inviting you to our 2nd Annual Women's Event, hosted at the Shrine of Our Lady of Sorrows + Valentine Hall, with a special guest speaker and added Mass and Adoration.
Prioritize this event in your schedule for Wednesday Sept. 20th! Bring a friend or come and make a friend, and watch how the Lord blesses you through this special evening with other like-minded women!
Tomorrow is Adoration!
And New Praise and Worship Hour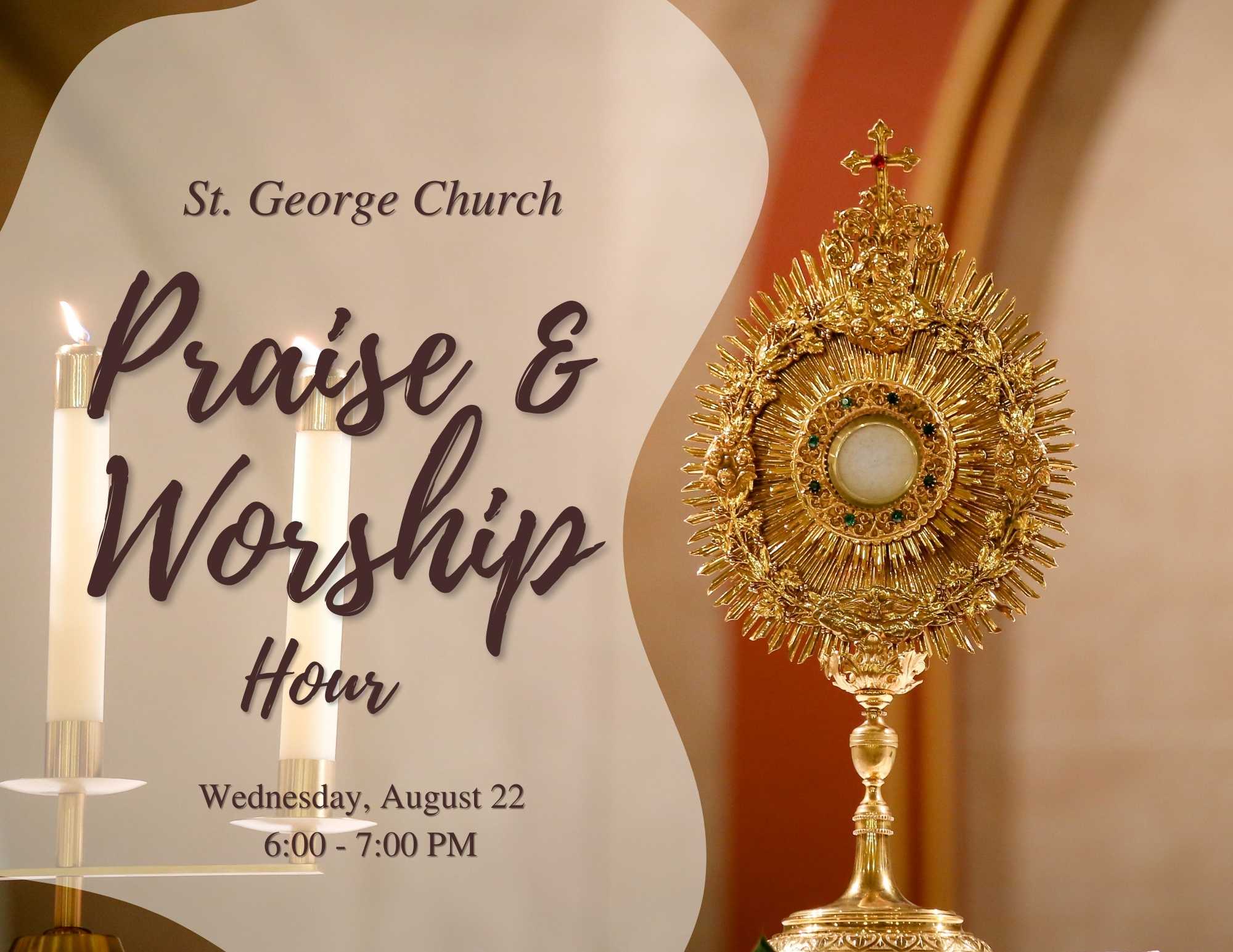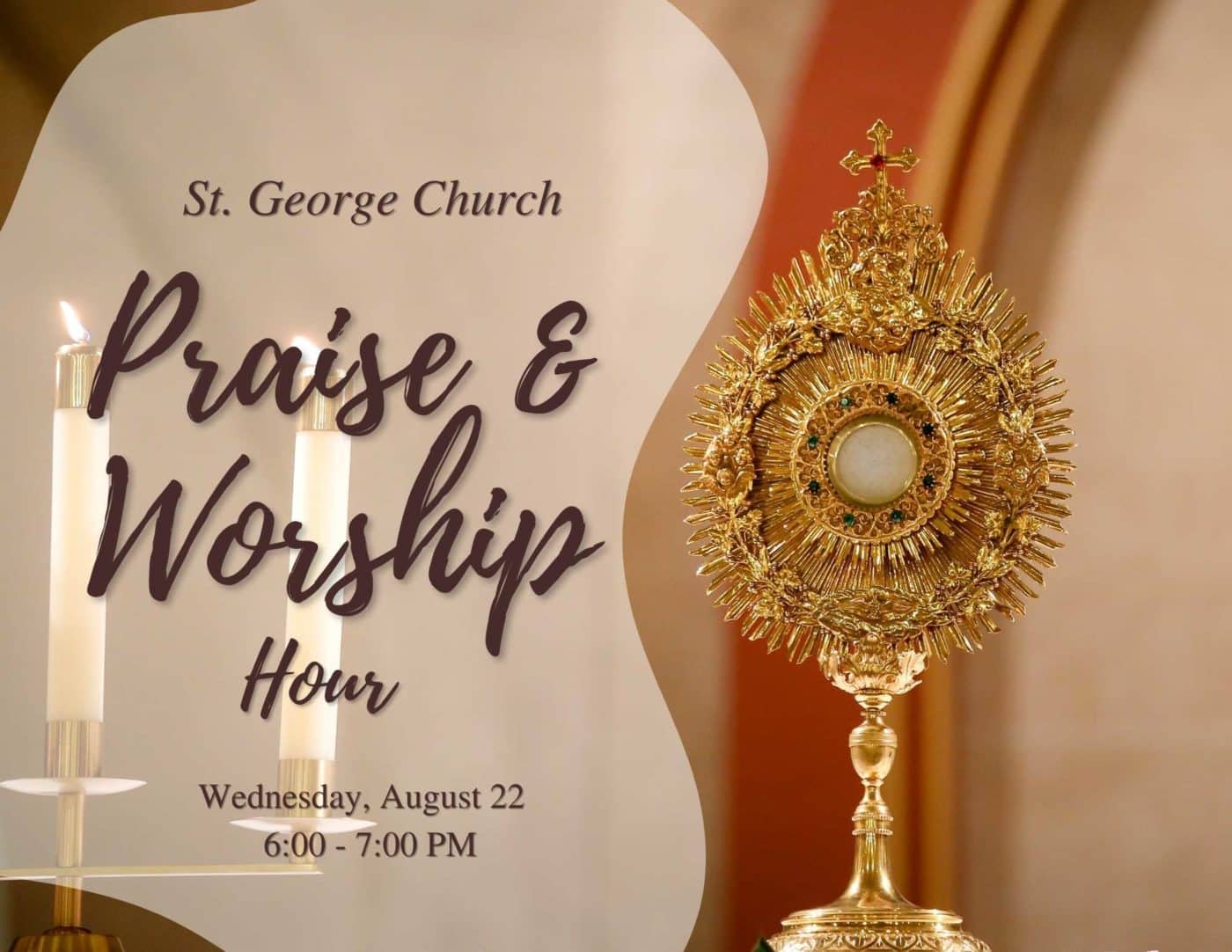 Come and adore Jesus tomorrow from 3 to 7pm! And be sure to carve out some time for a Praise and Worship hour from 6-7 PM!
What is a Praise and Worship hour? It's Adoration with added music that draws us closer to Christ.
This week, musician + vocalist and St. George parishioner, Nikki Allison, will be leading us during this Praise and Worship Hour.
Parents, come with your kids and bring your teens before they head to Youth Group at 7pm!
Also, there are a few time slots open for future Adoration times… prayerfully consider dedicating an hour with our Lord so that he is never left alone.
Hidden Windows Exposed in Sanctuary
NEWS STORY
We've all had the same thought at some point while sitting in our pews in Mass… "what are those window-shaped shadows on the wall high up in the sanctuary?"
It was brought to the Parish Council some time last year to expose the windows that are behind the drywall in the sanctuary. After Janet LaBoube brought in her wedding photo in which the windows could be seen, it was a resounding 'yes' from the council to proceed with exposing them sometime soon.
Finally the day has come! Yesterday, Denis Baumstark, with the help of Dennis Scheidegger, Tim Engemann, and Tom Eggering, put up a scaffolding and exposed the blue stained glass for all to see!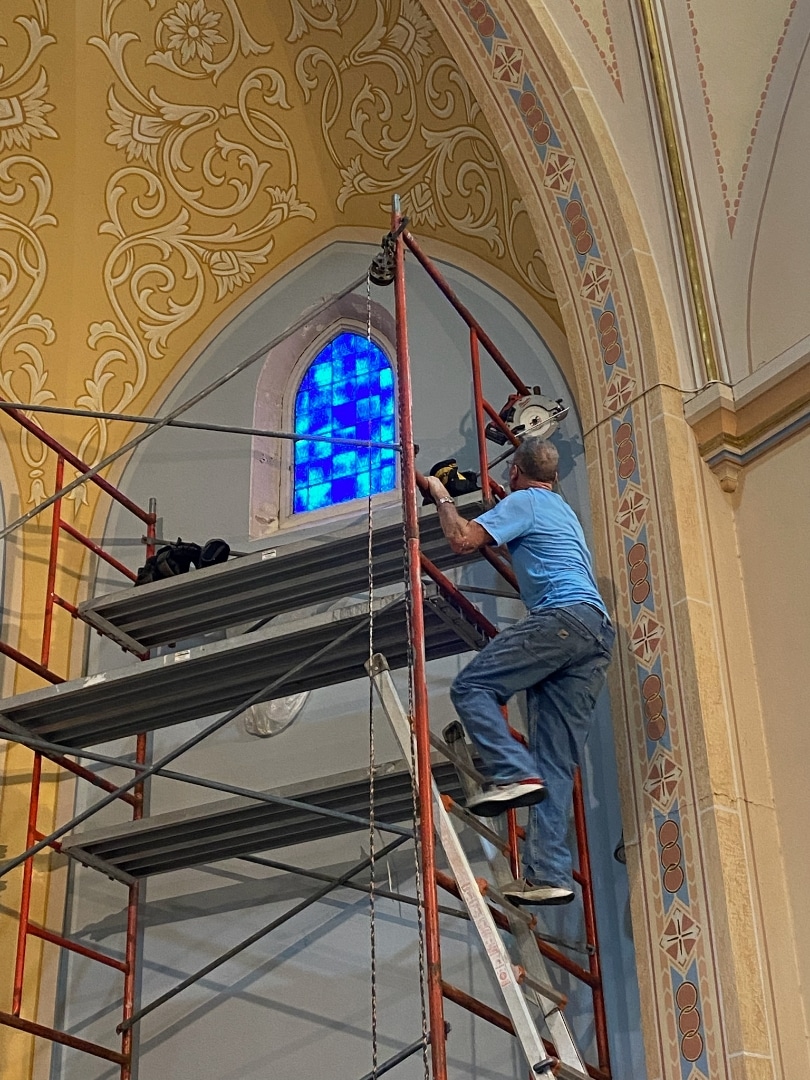 But what's the story? Why were they covered up in the first place?
After a conversation with Bernice Jacquin and some light detective work in the Parish office, it has been narrowed down the year to 1990, during the time when Father Ambrose was here.
Between 1988 and 1991, there were several major renovations made to the church. New carpet from Strassner's Furniture and Upholstery went in, renovation of the confessionals, sash guides put on stained glass windows in bell tower and cry room, tuck pointing on the outside, a major paint job on the interior that was done in phases over those four years.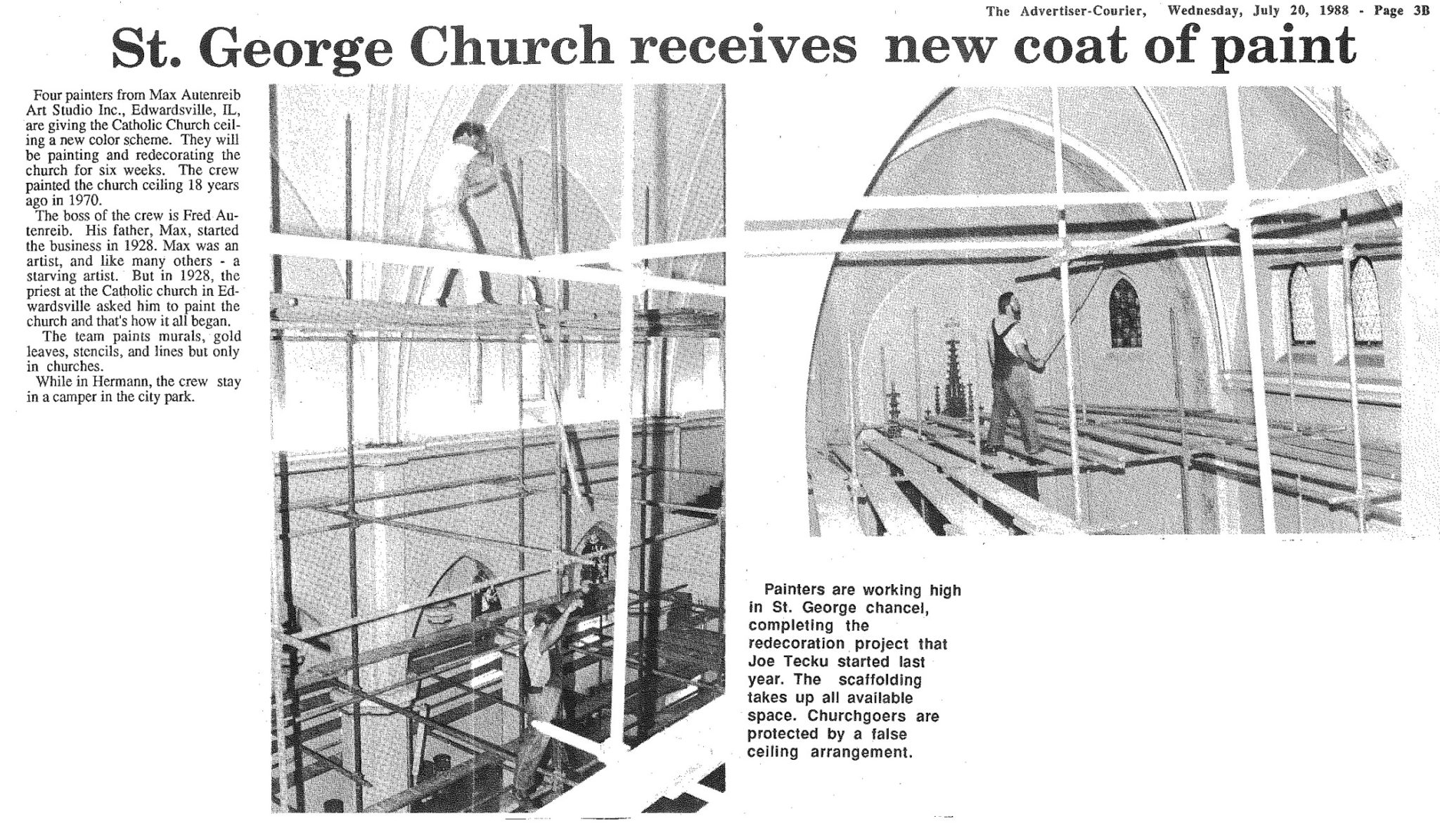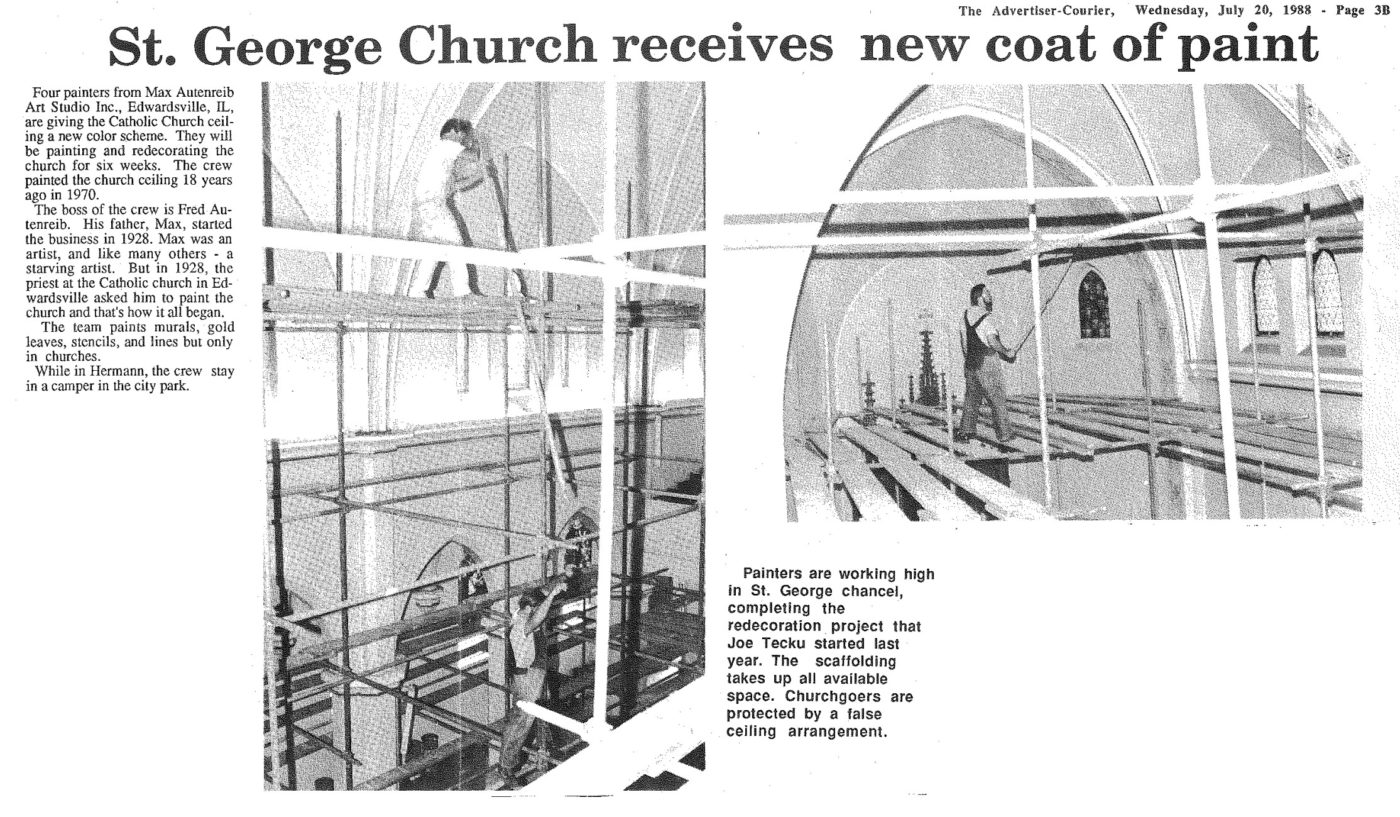 There's no real explanation for the concealment of these marvelous windows in the sacristy, but after 33 of years being hidden, we are happy to have them exposed in all their beauty!
---
DID YOU RECIEVE THIS NEWSLETTER IN YOUR EMAIL? IF NOT, YOU CAN SUBSCRIBE BELOW.
Get the Gazette
---
HELP US OUT BY TAKING THE ST. GEORGE WEBSITE SURVEY
Would you be so kind?